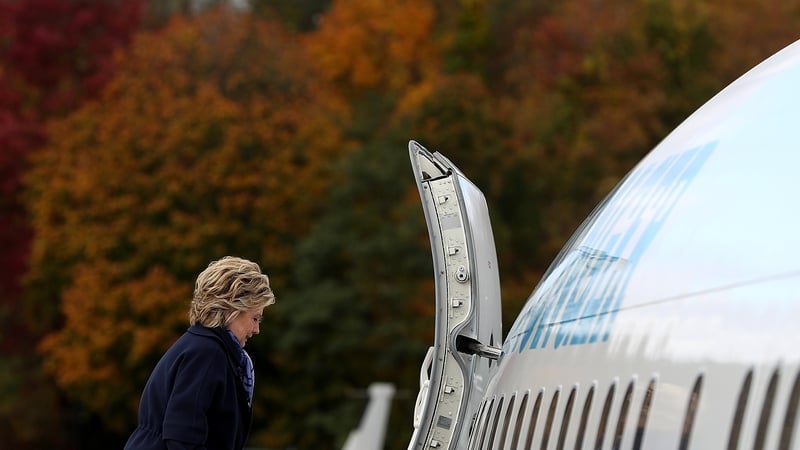 The FBI said it will investigate additional emails that have surfaced relating to Hillary Clinton's use of a private email system, in a new twist to the US presidential campaign with 11 days to go before election day.
In a letter to several US congressional committee chairmen, Federal Bureau of Investigation Director James Comey said the agency will determine whether the emails contain classified information, adding that it is unclear how significant the new materials may be.
Mr Comey said he "cannot predict how long it will take us to complete this additional work".
The new emails were discovered after the FBI seized electronic devices belonging to Mrs Clinton's aide Huma Abedin and her husband Anthony Weiner, the New York Times reported today.
The announcement shook up the campaign for the 8 November election, where Mrs Clinton is the Democratic Party's candidate and the front-runner in opinion polls.
The FBI spent about a year investigating Mrs Clinton's use of an unauthorised private email server for her work as US secretary of state between 2009 and 2013 after it emerged that there were classified government secrets in some of her emails.
In July, the FBI characterised Mrs Clinton's handling of classified information via email as "extremely careless" but, after a months-long investigation, it recommended that no criminal charges be brought
Mr Comey provided no further details today about the nature of the additional emails now being looked into.
"In connection with an unrelated case, the FBI has learned of the existence of emails that appear to be pertinent to the investigation," Mr Comey wrote in the letter released today.
He said that the FBI "cannot yet assess whether or not this material may be significant."
Spokespeople for Mrs Clinton did not immediately respond to a request for comment. She has previously apologised for her server, which was set up in her home in Chappaqua, New York.
She said the arrangement was a mistake, and that she did not knowingly send or receive classified information.
Today's news was seized upon by Donald Trump, Clinton's Republican rival for the presidency, who has repeatedly sought to cite her email practices as disqualifying her for office.
"I need to open with a very critical breaking news announcement," Mr Trump said at the start of a rally in Manchester, New Hampshire, before describing Mr Comey's letter.
He was drowned out by a chant from the crowd of "Lock her up".
"We must not let her take her criminal scheme into the Oval Office," Mr Trump continued.
"I have great respect for the fact that the FBI and the Department of Justice are now willing to have the courage to right the horrible mistake that they made."
Paul Ryan, the House of Representative Speaker and the most senior elected Republican in Congress, said Mrs Clinton should not get classified briefings until the investigation was over.
"Yet again, Hillary Clinton has nobody but herself to blame," he said in a statement.
"She was entrusted with some of our nation's most important secrets, and she betrayed that trust by carelessly mishandling highly classified information."